Last night, after I had my dinner at home:
Me: Mummy, later I go out shopping ah.
Mummy: Shop-what-ping? So rich ah you? Why can't you go shopping tomorrow since we are doing so after dinner?
Me: Boring lah at home the whole day do nothing. I just want to look see look see.
After I done my own " big business" (Don't understand why my body storage cannot store food that I have eaten for at least overnight), changed myself into a polo-t and knee-length bottoms. I'm not wearing shoes. Instead, the "chin-chai" way, my cute Crocs Sandal.
Just simple attire will do for the time being except when I'm doing shopping in KL or other places out of Sabah. That was my style.
LEI CHOI AH?
Lucky for me that my brother got to study for this weekend and he don't need a car to enjoy for that night. So, I went to Warisan Square and Centre Point. Both shopping centres were so close to one another. However the car park rates in comparison:
Warisan Square:
RM 2.00 for first 3 hours
Cleaner
Centre Point:
RM 2.50 (if I'm not mistaken) for don't-know-how-many hours
Dirty and smelly because of URINE smell.
I rather park my car at Warisan Square since it was cheap and clean and not so dangerous. Firstly I walked over to Centre Point because most shops might be closing around 9.30 p.m. unlike Warisan Square around 10.00 p.m.
I didn't expect Burger King to close. And it was great enough to see that F.O.S. shop changed to Yin and Yang shop. The same problem that I faced while shopping around Centre Point, IT'S WARM! Still the same as before.
=.=''''''
I managed to calm myself down while loitering around there. I got myself on 4th floor to check out a shop selling phone casing (I meant HOUSING) and accessories. I found the housing for my Nokia 9300i. But when I looked further and zoomed for the price, RM 299!
No eyes to see anymore, CHAU!
Why I need to look for such thing? "Maklumlah" my father drop this Nokia 9300i on the floor until so many scratches and "scars" all over the phone. I searched most computer shops around Centre Point for 2Gb MMC memory card. Difficult for me to find one. Mostly expensive and the price was not what I expected. I need it desperately for my Nokia 9300i.
After roaming around with empty handed (Actually got things I want to buy but HALF- HEARTED), I went back to Warisan Square. I recalled myself that I need a new wallet suddenly. The wallet that I currently used was torn especially the CARD compartment. Am I having too many CARDS? Then, I went in:
1. Body Glove
Nothing much difference. No new arrival of products it seemed.
2. EX
Found 1 brown (My favourite colour) wallet. RM 49.90 but looked so simple and not much compartment. (But I put that into my "wishing" list first)
3. Quicksilver
Found 2 brown different styles of wallet. One cost RM 89.90 with no coins compartment and the other one cost RM 99.90 with coins compartment and a lot of CARD slots. I stood and squatted there for about 15 – 20 minutes to make my mind decide. Lucky no one was with me doing shopping. Or else, "fu diao diao" face expressed all over me.
Even the promoter explained about the promotions they were having in Quiksilver. Next, I was like OK. I made my decision. I rather spend another RM 40 for a Quiksilver wallet. All I need was the "brand", Quiksilver.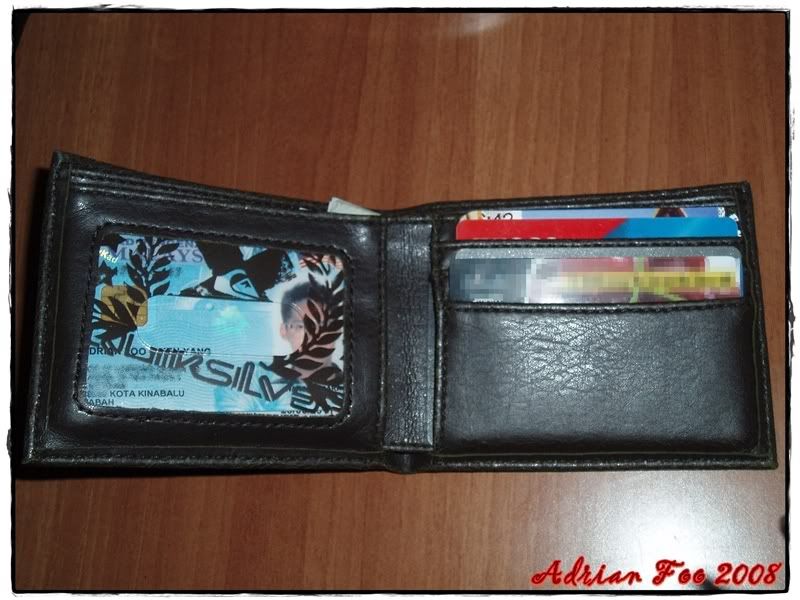 About the promotion:
I was being told if I spend over RM 150 in a single receipt, I can get a membership of Quiksilver. But I chose not to go for it. As soon as I returned home, I felt I regretted that I should have spent RM 150 above for that card. Yet, I should have purchase Quicksilver merchandise such as Keychains, Handphone Lanyard and etc. with discounts of 30% and 50%.
Now, OMG! I have to promise myself not to spend so much $. I need to save $ to buy 2 units of 2Gb RAM for my notebook this coming PC fair.
SHIT!
Tonight, maybe my family is going for shopping again. Hopefully, just a window-shopping for me.
Save my soul!