Last night, as my father opened the storeroom door:
Father: Yang, you want mini compo or not?
Me: Huh?
Father: For you to bring up to Kampar.
Well, my expression was like:
Me: Want. Of course lah.
Ever since Tesco opened in Kampar, I went there for the first time and tried to search for mini compo. You know my life was kind of boring since there was not even a single shopping centre for me to "lepak", I mean loiter.
Actually, I found one mini compo. It comes with DVD player, card reader and radio. All I need was the card reader and radio feature of it. When I came across to the price of it, RM 269.90 if I was not mistaken. I was so half-hearted to buy it. So, I changed my mine not to purchase it for my room.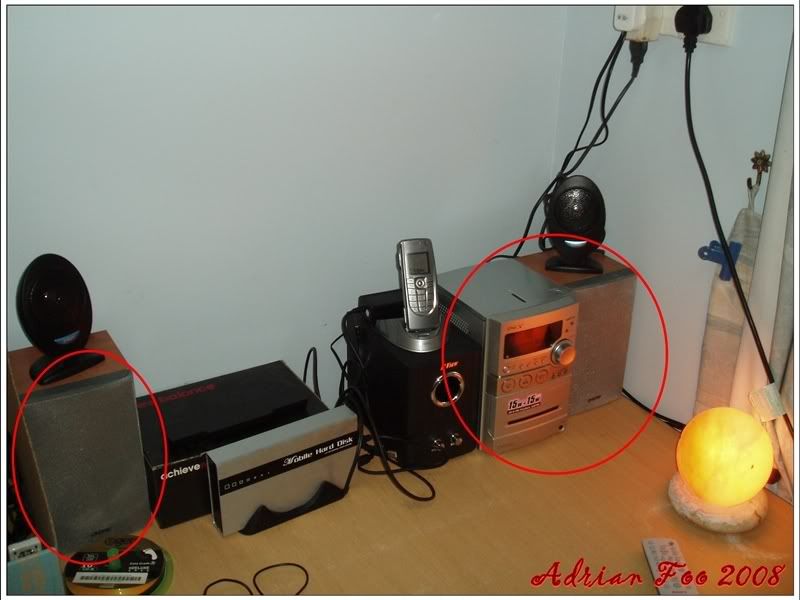 I opened up the box and took out the mini compo. It's Sony. But top bad lorr, it's not Sony that comes with the XPLOD speakers. I think I should be grateful enough of what my father gave me. Such mini compo doesn't play DVD / DVD-RW. No card reader slot. I can't even find the radio's antenna. Can't even receive radio channels. It's okay for me. I can at least burn those mp3 songs into a CD-RW and play on it.
Also, this mini compo included a cassette player. But what for?
Sound system quite ok. Just a mini compo. Then I better don't expect those mega bass sound. Haizz..
Nevermind lah. Got mini compo can liao. Hahaha…
Next, my father brought down another multimedia speakers for PC. For this time, he asked my brother instead of me whether he wants it or not. What my brother did was he tested out how good was that speaker given by my father and compared to his previous one. As a result, his old ones given to me.
Now, when I going to return to Kampar, I need to bring along few "expensive" toys of mine. First, my external desktop hard disk. Next, Nokia 9300i and followed by the Sony mini compo. No point bringing that multimedia speakers along because my room in Kampar was not that spacious enough.
Today, I got out of bed around 9.30 a.m. The reason I woke up that "early" was to check out my Year 1 Semester 1 examination results. I was so fortunate enough that I was able to log in UTAR's Intranet to view my results.
My results was like oklar to me. At least I can proceed to next semester next year. Then, I SMS-ed my father:
Me: I got ~*~*~*~*~*~*~*~*~. I can continue study for next semester.
Father: K. Congrats. Pls try n do better nex time while listening music fr d mini comp. Tel mum ~*~*~*
All in all, I got myself so many surprises once I came back from Kampar.
1. Nokia 9300i
2. Hard Disk Casing
3. Sony Mini Compo
4. E-view Multimedia speakers
5. 5- year validity ordinary driving license
6. A satisfying exam results (in my opinion)
7. Anymore?