1.45 p.m.
Decided to format the living room's desktop PC. But everything went failed because it was the whole PC force to shut down. I don't understand what the problem behind it was. I am not some kind of software specialist. All I need to do is to bring it to the computer shop to format it. Hopefully I need to fork out RM 40 for it (heart pain).
5.45 p.m.
Drove myself out to Warisan Square and Centre Point for last minute buying birthday gift for Kah Yee. I was stuck in a not-so-massive-but-massive traffic jam. Even Sophia who planned to accompany to buy birthday gift got stuck in the jam around the flyover. I don't understand why flyovers causing a jam as well.
6.10 p.m.
Parked at Warisan Square (Cheap and clean car park with no urine "fragrance"). While waiting for Sophia and her younger sister to arrive, I went for window shopping. As soon as Sophia reached, we went to Living Culture, Warisan Square. Unfortunately, we can't find anything for Kah Yee as most items were not suitable and some were so costly.
We then walked over to Just For You, Centre Point. At least that place got such things that we want to buy for. But we went over to Something D'fferent few floors up after Just For You. Finally, we got something there. A big teddy bear.
7.10 p.m.
Drove to Gaya Seafood Restaurant, Inanam for Kah Yee's birthday dinner.
7.30 p.m.
Lucky we arrived on time with no traffic jam. From there,
Mouth-watering food.
Even other Form 6 friends that Kah Yee invited them (We only know each other in tuition but seldom get along) shocked to see me that I have changed a lot. As usual, I slimmed down and my complexion was darker than before.
Sophia: Adrian, when can you come to my house to help me make cookies for CNY?
Me: Harr, your "factory" open already? Tu I'm waiting for this Kah Yee lah.
Kah Yee: I'm not free first for this week. Next week lah.
Me: Quick lah, I'm rottening myself up to DEATH everyday at home.
Sophia: Yaloh you (Kah Yee) should pack 1 week of clothing and stay overnight at my place.
Kah Yee: Yabah.
We had our photo sessions.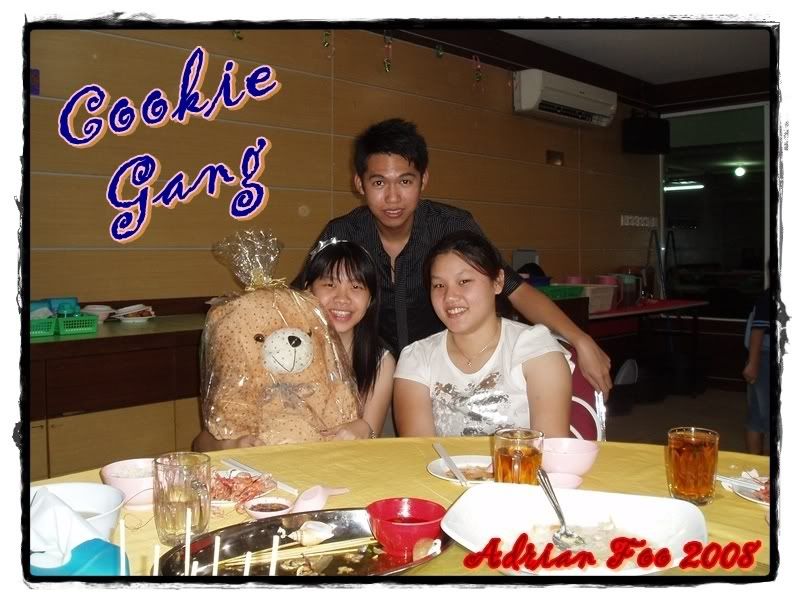 The cookie gang that compromised from left to right: Kah Yee (The one and only birthday girl), me, Sophia (That teddy was the gift from me and Sophia but not part of the cookie gang).
Me, Kah Yee (hugging another teddy from Danny), Danny.
The birthday girl, Kah Yee who was proud to have two teddy bears in one day.
Actors and actresses of the night (Photographer: Ricky, Kah Yee's boyfriend).
9.30 p.m.
Got our ass off (except for Wendy and Sze Lu) to Yogur Berry, CityMall for second round event of the night. Unfortunately, most Sabahan shopping mall close around 9.30 p.m. onwards. We went to Halo Café but full house because there was an konon-nya-don't-know-what-artist performing there. Our last choice, Old Town White Coffee.
We have our drinking cum chatting sessions there. And I was the one willing to pay for the bill spend them during that meaningful session.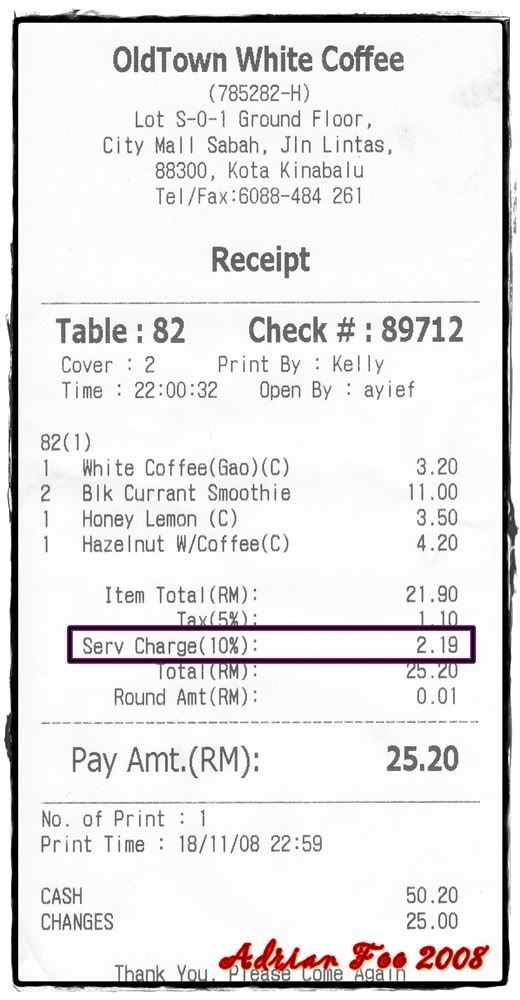 Of all this months (This Old Town White Coffee was the first branch in Kota Kinabalu opened last year), I hate their service. It was not only slow but they even forgotten about what you have ordered.
Somehow, they even IMPOSED me another Service Tax in the bill. Their freaking fucking lousy poor quality service cost me another additional 10% service tax in the bill.
Sophia: Adrian, you want this receipt?
Me: For what lah?
Sophia: For remembrance mah.
Me: Klah.
11.00 p.m.
Started our car engines and headed back home.