31 October 2008 (Friday)
In conjunction with Sabah ICT month 2008, ICT Fiesta 2008 was held at Likas Sports Complex, Kota Kinabalu from 31 October 2008 – 2 November 2008.
Mum: Decided to go Sabah Trade Centre because there was a exhibition held that suited her.
Brother: At library studying for his exams.
Me: Ordered my mum to drop me at Likas Sports Complex for the PC fair since Sabah Trade Centre was few kilometers away.
Once I arrived at PC fair entrance hall, there few of these girls and one of them so "getek" enough to molest me by sticking a tiny little sticker to indicate how many people visit that PC fair. How can these girls managed to get such JOB? It was so "eewwww" that they about to take advantage of me touching my breast chest nearly. Why don't they molest ladies breast chest since theirs' were so fleshy enough. Bitches standing by the door.
While walking around surveying prices, I came across a person which was none other than my old friend, Jhun Haw. He was working as a standing statue promoter sales assistant in one of the stalls with no "tiang" unlike other stalls. I even saw another old friend, Graham Chin. This friend willing to spend his time visit the fair. Not like the one who mentioned in "comment" part,
"u diz two UTARians stop showing off lar. i noe u 2 r having long holidays. Meanwhile, others mati2 study til become panda. LOL!".
From that fair, I got myself one unit of Kingston 2GB DDR II RAM for RM 85. Why one unit only not two unit?
I believed that in one month time, PIKOM PC fair will be held in Kota Kinabalu, Sabah and from there I can get myself another 2GB DDR II RAM for cheaper price.
Now, logging in and shutting down windows as well as opening a program was faster than ever. Imagine last time my PC running on 1GB DDR II RAM using Windows Vista Ultimate swollen 75% of memory usage. With 3GB DDR II (1GB + 2GB), my PC works faster than ever.
1 November 2008 (Saturday)
I went to that PC fair for the second time. This time I went with my brother. Before that, I drop by Maybank Lintas branch to withdraw cash from ATM machine. Indeed, this fair really vollapped my money.
As usual, I saw Jhun Haw again working. From the fair, I bought two items again which were
LCD cleaning kit (RM 4) for Sophia Wong
and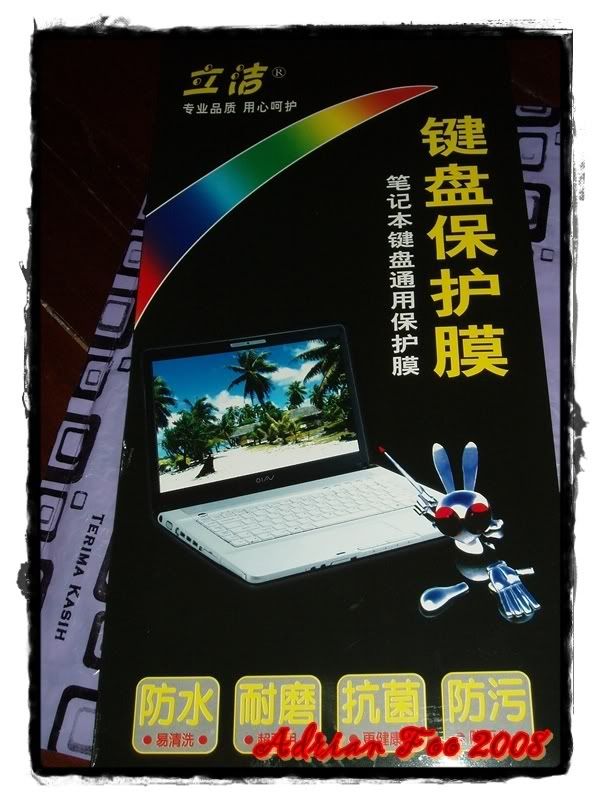 Notebook keyboard protector (RM 8) for Danny Thien
My brother planned to buy 2 GB micro SD card. I need it as well for my O2 Xda II mini phone to insert media files though it can support SD card. Both of us went to a stall where micro SD card was the cheapest offered price. RM 23 for one unit. We saw it advertised below the stall's name on a piece of A4 paper.
Me: Can I have 2 units of 2GB micro SD card?
Sales Lady: Oh sorry, stock haven't arrive.
Me: HUH? (I was about to shout)
Brother: HUH????!!!
My brother and I were so pissed off. Why on earth they maintain that A4 sized advertisement since they don't even sell the things we want?
Again, we went to other stalls. This time, a stall selling SanDisk brand.
Brother: If we buy 2 units of 2GB micro SD card from you, would you give us more discounts?
Sales Man: You buy 100 units from me also I can't give you discount.
Without wasting anytime, "balik rumah" was our last choice. Sial!!!
2 November 2008 (Sunday)
I didn't go to that fair again. But been to Karamunsing (Sabah's IT Mall I assumed). A lot of cool stuffs I wanted to buy. But I felt half-hearted as I spent a lot of money since I came back from Kampar.
Till today, I don't even own a pendrive. Ever since my 128 MB Kingston pendrive got stolen in secondary school, I still depending on my 2GB SD memory card and SD card reader as my pendrive for me to bring it to UTAR for study purpose. My O2 XDA II mini ended up with missing additional storage because of that. Somehow, I rather wait for the next PC fair since I don't need a pendrive now in urgent.