Monday, December 29, 2008
Obviously posted by

Adrian Foo (符显杨)
at 7:33 PM
0 Comment(s)
Links to this post


Saturday, December 27, 2008
I wanted to post this long time ago but I forgotten. It was first started on 26 September 2008 when I finally met Sophia and Alvin at KL LCCT airport. We went to Coffee Bean for a meal before boarding a plane back to Kota Kinabalu.
While eating and chatting, all of a sudden, a lady approached to our table. I hated this part a lot. The lady spoke in Mandarin to us, holding a letter that was bring approved by those concerned and explained why she popped out in front of us.
I don't even bother to listen because I couldn't understand Mandirin so much. All I knew that time was about CHARITY. As soon she ended her explanation, she begged for RM 10.00 from us for donation / contribution towards charity. I was like "Klah, charity mah".
So Sophia and I paid her RM 20.00. In return, we got this sticker from her as a sign of gratitude. We got two if it.
Glass sticker, Make A Better World.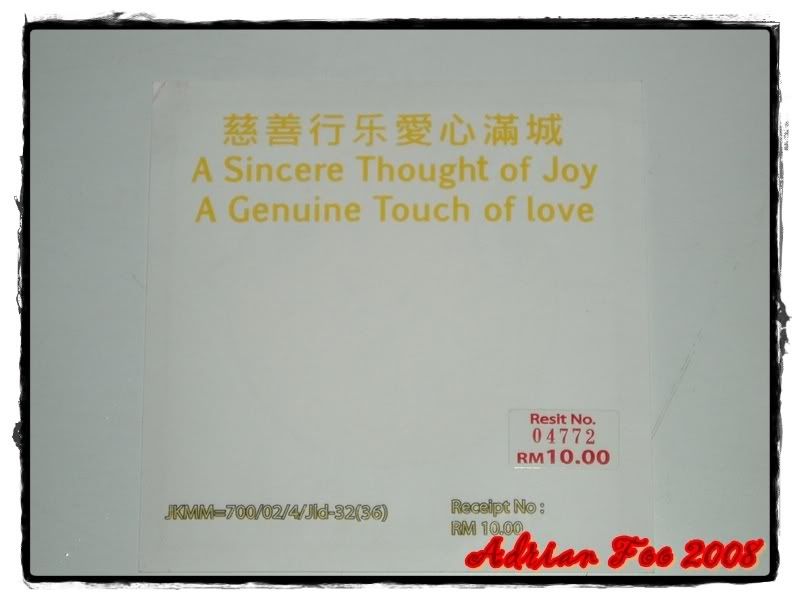 The back of the sticker.
"A Sincere Thought of Joy"
"A Genuine Touch of Love"
Very touching quote indeed. But I better keep this piece of shitty receipt. The next time I came across such person, I show her this receipt as a proof that I contributed RM 10.00 before. The sticker on the other hand, I give it to my brother to "support" his torn car road tax sticker. Hahaha…
I wonder why they don't have a campaign in the airport since KL LCCT airport draws a large crowd every day. I don't even know whether that lady trying to con me though she showed me the approval letter.
DON'T EVER LET ME SEE U AGAIN WHEN I'M AT KL LCCT AIRPORT!
Obviously posted by

Adrian Foo (符显杨)
at 3:20 PM
2 Comment(s)
Links to this post


Friday, December 26, 2008
I had BBQ nights together with my neighbours outside my house. It has been so long that we never gather for BBQ in conjunction of Christmas celebration. Well the pictures below says it all.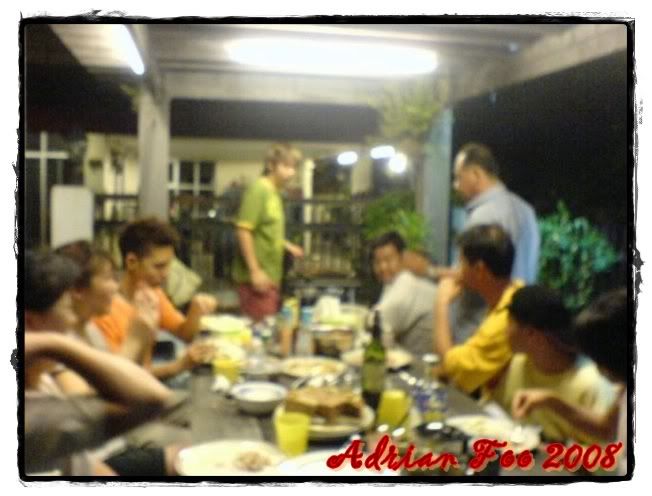 Eat, drink & chat (fart as well? LOL!).
Me enjoying red wine.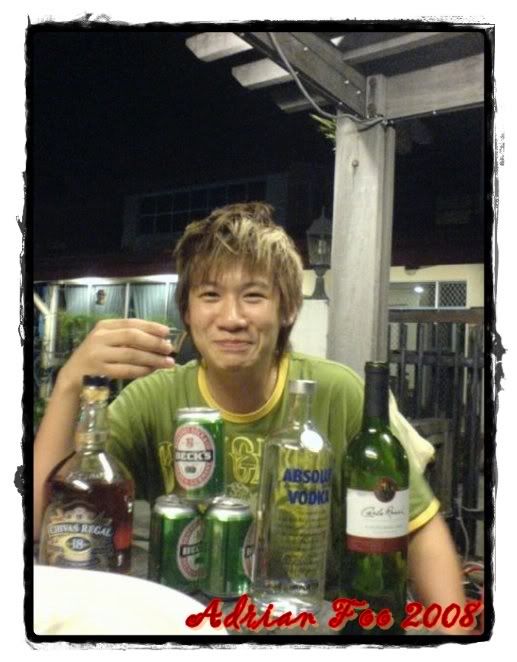 My brother posing few bottles of alcoholic drinks.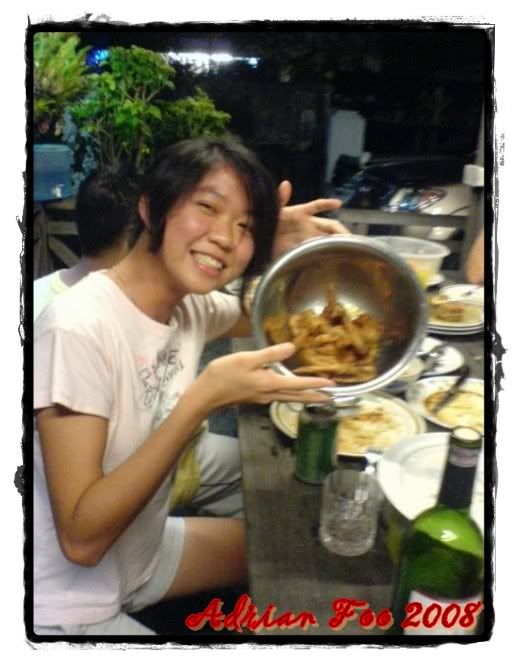 Charlene Liaw promoting her fried chickens.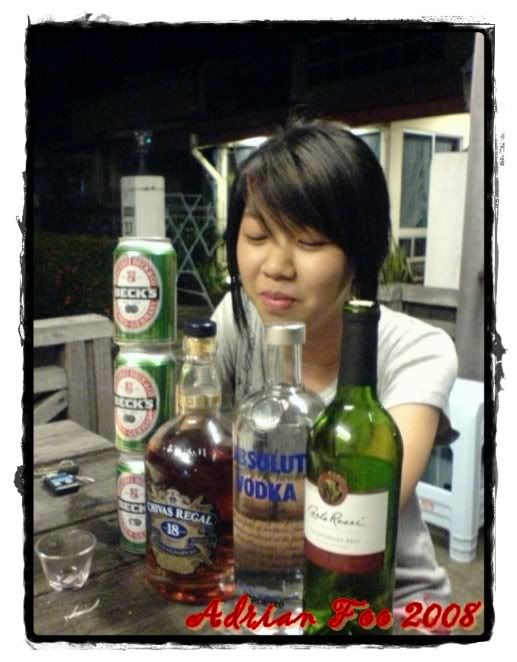 Kimberly Liaw admiring alcoholics.
Kids that we knew since young.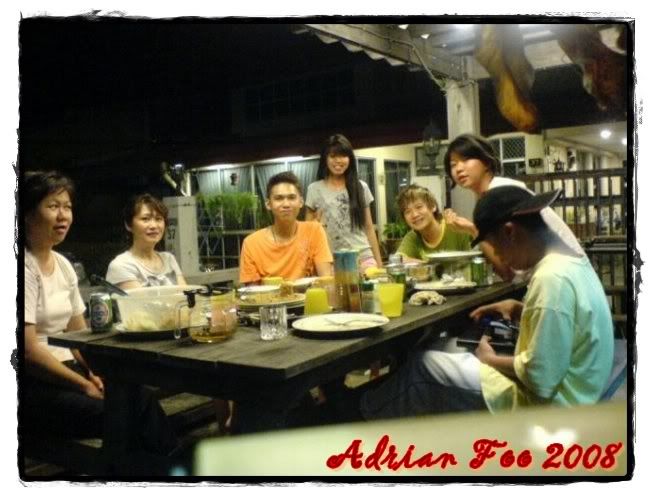 L-R: Aunty Kim, my mum, me, Kimberly, my brother, Charlene, Collin.
When the night getting old, we clean up the compound.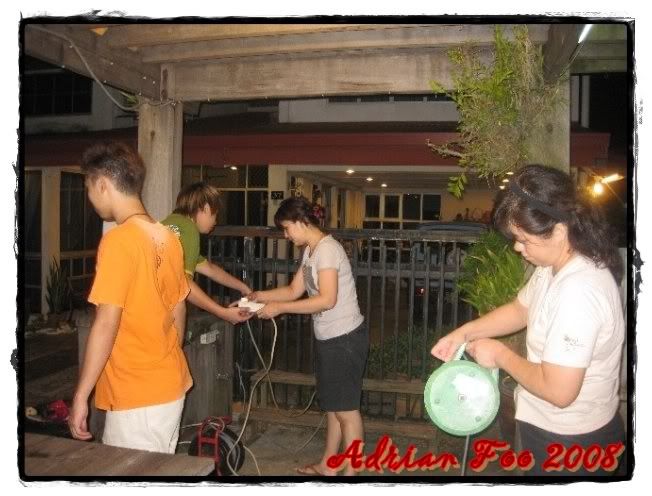 I would like to "ucapkan ribuan terima kasih kepada" uncle Christopher for sponsoring the foods and drinks. I have no words to say other than thank you for purchasing alcoholic drinks for us to enjoy. Hahaha…I love UNCLE CHRISTOPHER!!! LoL!!!
Obviously posted by

Adrian Foo (符显杨)
at 11:11 PM
0 Comment(s)
Links to this post