I'm not here to help anyone to promote such advertisement.
I came across this advertisement through the net.
It was Nokia 9000 communicator for sale. The first (1st) generation communicator phone by Nokia.
Specifications:
General:
2G Network: GSM 900
Annouced: 1998
Status: Discontinued
Size:
Dimensions: 173 x 64 x 38 mm
Weight: 397g
Display:
Type: Grayscale LCD
Size: 640 x 200 pixels
- Second display
Ringtones:
Type: Monophonic
Vibration: No
Memory:
Phonebooks: 200
Call Records: 10 dialed, 10 received, 10 missed calls
Card Slot: No
- 8 MB total
- 4 MB Operating System and applications
- 2 MB program execution
- 2 MB user data storage
- Processor: embedded INTEL 386 processor
- Operating System: GEOSTM 3.0
Data:
GPRS: No
HSCSD: No
EDGE: No
3G: No
WLAN: No
Bluetooth: No
Infrared Port: Yes
USB: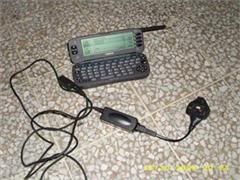 Features:
Messaging: SMS, Email, Fax
Browser: HTML
Clock: Yes
Alarm: Yes
Games:
Colours: Black
Camera: No
- Contacts
- Notes
- Telnet
- Terminal
- Calendar & To-do list
- Ringing tone composer
- Help
- System & security
Battery:
Type: Standard
Stand-by: 35 h
Task Time: 3 h
Then horr, I scrolled down. What caught my attention was the price.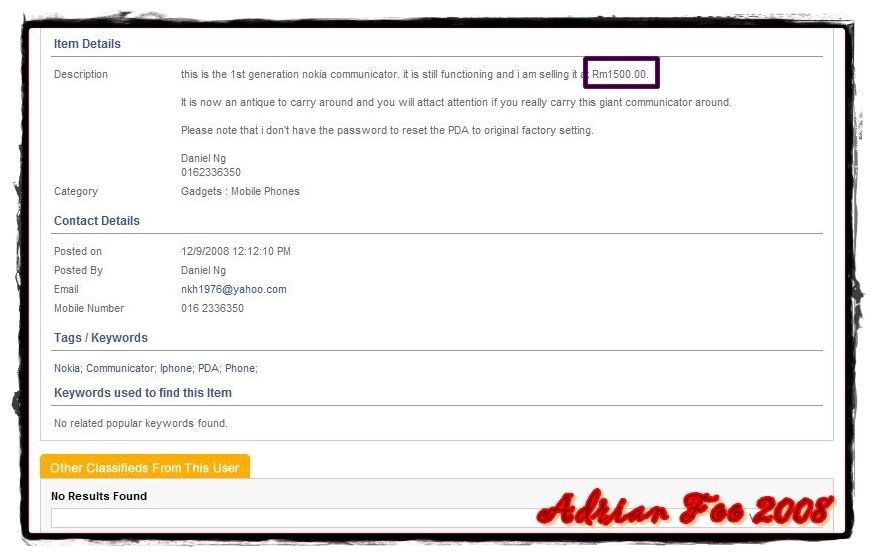 This fella is selling for RM 1,500 for such an outdated phone?
Siao ah! Only elderly ones who really appreciate antiques stuff should go for such thing. People like me would opt for the high-tech ones.