I wanted to post this long time ago but I forgotten. It was first started on 26 September 2008 when I finally met Sophia and Alvin at KL LCCT airport. We went to Coffee Bean for a meal before boarding a plane back to Kota Kinabalu.
While eating and chatting, all of a sudden, a lady approached to our table. I hated this part a lot. The lady spoke in Mandarin to us, holding a letter that was bring approved by those concerned and explained why she popped out in front of us.
I don't even bother to listen because I couldn't understand Mandirin so much. All I knew that time was about CHARITY. As soon she ended her explanation, she begged for RM 10.00 from us for donation / contribution towards charity. I was like "Klah, charity mah".
So Sophia and I paid her RM 20.00. In return, we got this sticker from her as a sign of gratitude. We got two if it.
Glass sticker, Make A Better World.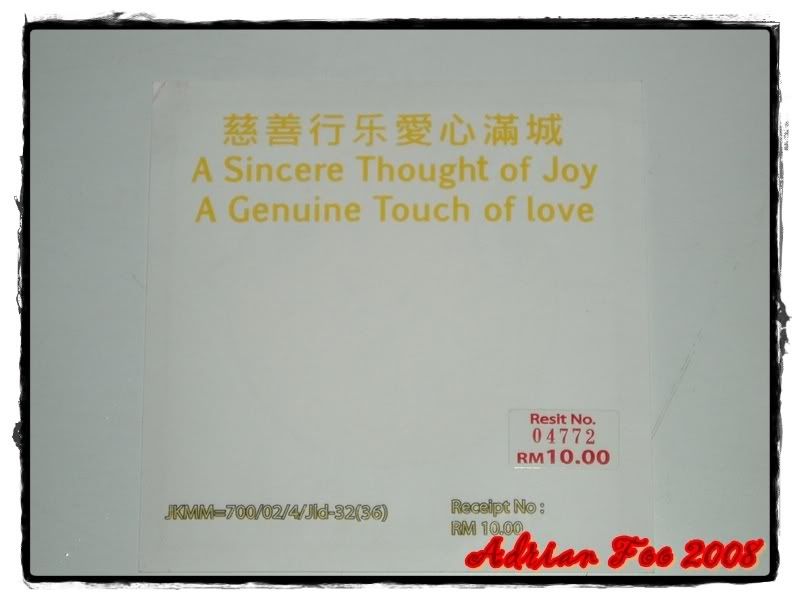 The back of the sticker.
"A Sincere Thought of Joy"
"A Genuine Touch of Love"
Very touching quote indeed. But I better keep this piece of shitty receipt. The next time I came across such person, I show her this receipt as a proof that I contributed RM 10.00 before. The sticker on the other hand, I give it to my brother to "support" his torn car road tax sticker. Hahaha…
I wonder why they don't have a campaign in the airport since KL LCCT airport draws a large crowd every day. I don't even know whether that lady trying to con me though she showed me the approval letter.
DON'T EVER LET ME SEE U AGAIN WHEN I'M AT KL LCCT AIRPORT!