I woke up early as usual (though it was not the time set by my alarm clock). Got myself ready and started my car engine to go Sophia's house to make cookies. But I felt something odd as I started the engine. After I was about to head out from a junction, my car was like shivering and more serious. In the end, I returned home.
I drove it to the workshop. So pissed off that time. I used to overtake people when I speed up. But for today, the dialogue below explained everything happened to my car.
Dylon: You got go to Sophia's house today to help bake cookies?
Me: Car rosak half way. But Kah Yee got go.
Dylon: Haha..So lucky ah..You got receive my MSN message last night?
Me: You this ah. I told you I can't download things via direct download. Only torrent. Because if direct, tiba-tiba putus while download half way
Dylon: OKOK..Sorry..Nevermind..I go back to KL and download..Then how is your car? Workshop or at home?
Me: My car is shivering. Can't accelerate though I stepped the pedal to the fullest. Shift to Gear 3, DEAD. Now my car at workshop.
After sending my pathetic car, I went to Inanam for food and to 1-Borneo since we (Mother, brother and I) were so convenient to go there. I bought another toys from Daiso (RM 5.00 shop selling Japan Products).
RM 10.00 for two items above.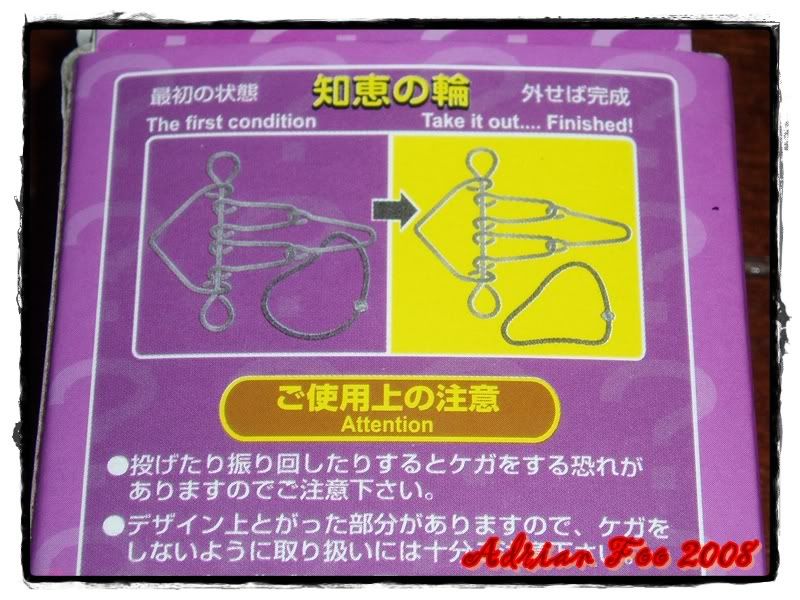 Challenge No. 1
Challenge No. 16
I was too kiddy for such kind of toys. Hahahaha…