Got out of my bed by 8.45 a.m. and refreshed myself up for the new day in Kampar, Perak. I cycled to Danish House office to settle my rental for February 2009.
Me: All the Chinese Staffs still having holidays?
Indian lady: Yea lorr. They will be back in one day.
Me: Oh I see.
Indian lady: UTAR got announce on 3 February holiday?
Me: Don't know. Why?
Indian lady: 3rd February is a public holiday for Perak States according to paper.
Me: The Stars? Wah..
Indian lady: Yes.
For a Sabahan like me residing in Kampar for studies, I certainly never bother to know any public holidays falls in Peninsular Malaysia. What more can you say about Perak state. Indeed, I went to 7-Eleven to get myself a copy of The Star.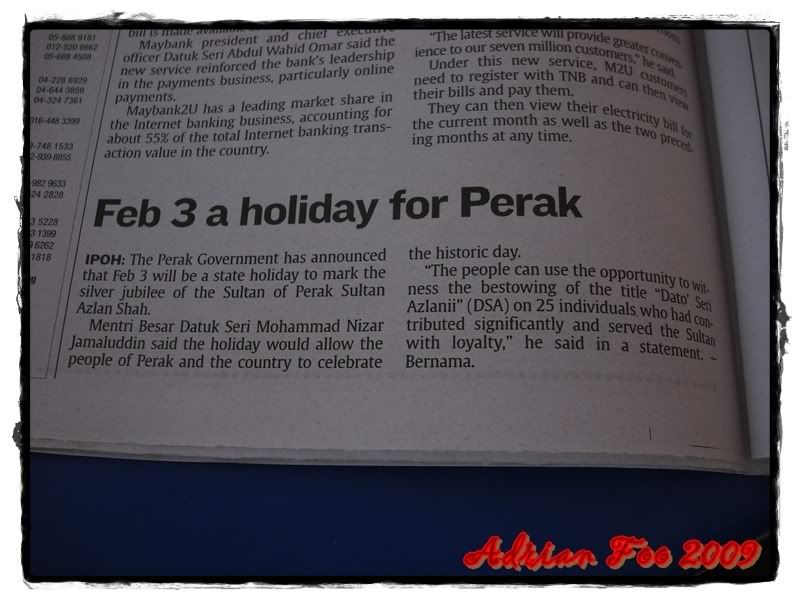 Yup, 3rd February is a public holiday.
IPOH: The Perak Government has announced that Feb 3 will be a state holiday to mark the silver jubilee of the Sultan of Perak Sultan Azlan Shah.
Mentri Besar Datuk Seri Mohammad Nizar Jamaluddin said the holiday would allow the people of Perak (Hello? Sabahan staying in Perak deserves such holiday?) and the country to celebrate the historic day.
"The people can use the opportunity to witness the bestowing of the title "Dato' Seri Azlanii" (DSA) on 25 individuals who had contributed significantly and served the Sultan with loyalty," he said in a statement. — Bernama.
I hate public holidays during weekdays when I was studying in University. Unlike primary and secondary school, I need to go for replacement class (which is quite hectic and cause my day to be very busy) in University.