You know how much I hate the title mentioned above? I was waiting at Gate A7 whereby I need to board my plane soon. I was being given the seat 8A (8th row, seat A) in the aircraft. The lady gave an announcement,
*Gling Gleng Gling Gling*
Attention to all passengers of flight MH 2662 of the seat 14 until 2*, you're required to board the plane now while the rest are to be seated until further announcement (I was like "what the?") [OK I understand that my airfare is MH Flex, the cheapest fair and that's why I deserved it]. Passenger for Business Class, you may board the plane anytime before the departure time (Passenger who has Business Class really "tai sai", high priority or privilege enough).
After all the passengers with first class privilege board the plane, it was my turn then. My first impression towards inside the plane is bad. The lightings were so yellowish (such an old plane unlike AirAsia). The seats were quite dirty as I can see stains. I felt warm until the plane started to take off. What is this? MH is Malaysian Hospitality?
Talking about the title, I assumed myself to be hospitalized while I was flying with Malaysia Airlines (MAS). There were no air stewards no stewardess to me. They were like surgeons and nurses serving the sick old passengers.
What do they serve? Firstly,
Nurse Stewardess: Fruit Juices for you.
So I grabbed guava juice.
To avoid myself getting boring,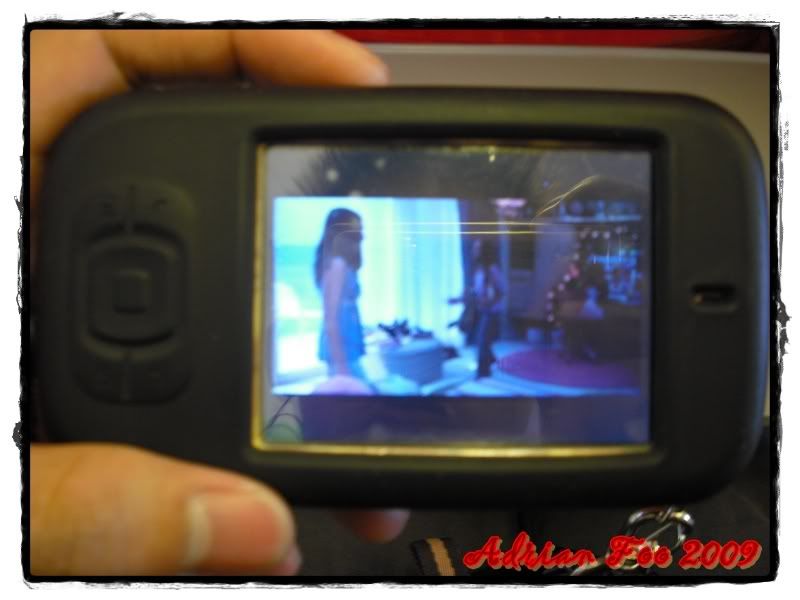 My "Ipod Touch" played Wild Child movie.
This person sitting next to me was a lawyer. How I justify him as a lawyer? He wore a white long sleeve shirt and black pants (I assumed it to be a lawyer's etiquette). He's quite rich. I saw a Mont Blanc pen inside his shirt pocket. He got a Blackberry mobile phone. And he placed a Timberland paper bag with clothes in it on the floor. He slept so soundly until I can even see his "bulu hidung". Imagine how high he tilted his head to sleep. YUX!
Food was served half an hour later.
Stewardess: We have Fish served with Potato Wedges and also Traditional Fried Rice with Chicken.
Me: I'll have the Fish meal then.
Stewardess: We have Coffee, Tea, Orange Juice or Guava Juice as your drink.
Me: Orange Juice please (I don't want to have caffeine drinks because it was 6 p.m. already).
Here came my box of meal.
Inside the box, they got Bun, Butter, Blueberry Jam, Spritzer Mineral Water, and the Main Course. That blue aluminium foil written: "Bon Appétit" as well.
My Main Course: Wedges, Fish with a bit of Tomato Paste, also the tasteless Long Beans and Carrots.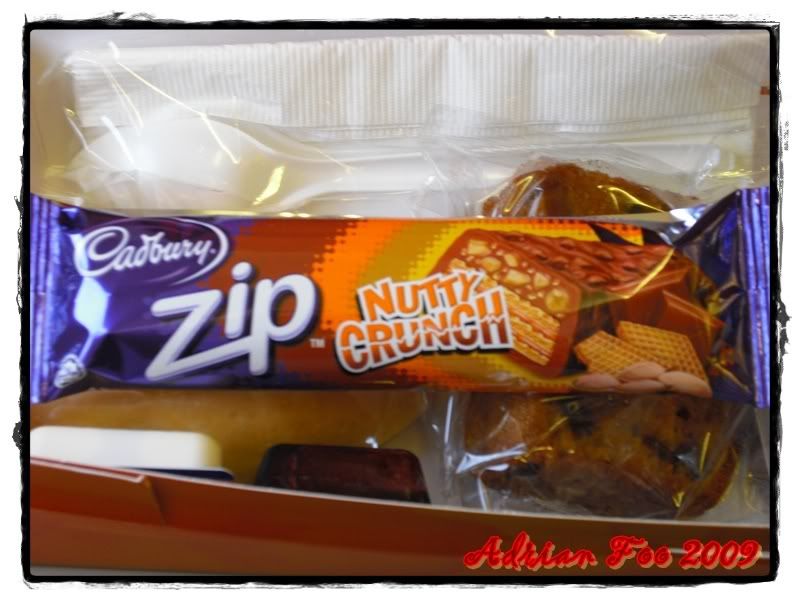 Not to forget, they include Cadbury as well (but I "ta pao" for my brother).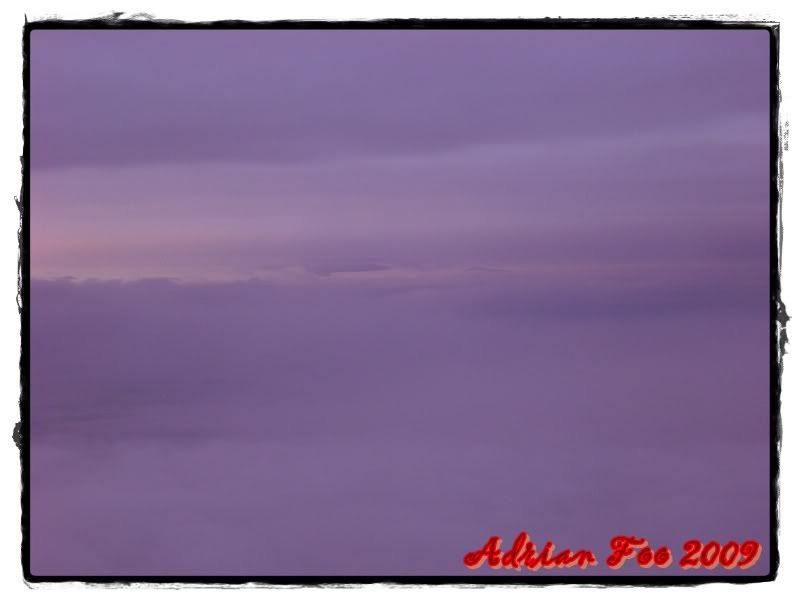 Along the journey, this all you can see (boring view) when you're on a plane.
I continued watching Wild Child again until the plane has came to a landing. Too bad I can't finish watching it. I was being informed by the captain that the plane was traveling 850 km/h.