It will be held tomorrow onwards at your own respective campus (if you were being admitted to UTAR). But let me tell you my experience based on UTAR Orientation May 2008 (Perak Campus).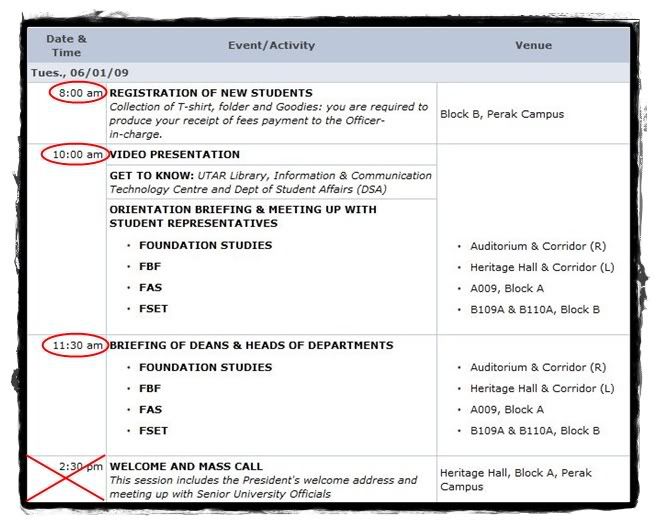 8.00 a.m.: Registration of new students
It was compulsory for all new freshmen to queue up (very crowded) at your respective faculty counter. You are required to collect your UTAR souvenirs freebies. Remember to flash produce your I.C. and student bill (the receipt of fees payment). During my time, it used to be at Block C, Students' Pavilion (people mountain, people sea). But now, they changed it to Block B.
10.00 a.m.: Video presentation, Orientation briefing & etc.
Recommended to be attended by all freshmen. Make sure you're at the right place to attend this event. If you're not sure, ask those officers in charge. They wouldn't harm you. But instead, they MAY lead you the wrong directions. That really happened to me before. I walked north-south & east-west around UTAR Perak Campus. So sial.
11.30 a.m.: Briefing of Deans & etc.
You can't escape this because everyone was being notified to be remaining sitting to wait for your Dean & etc. You still go for "big or small business" though. Your respective Dean MAY charmed your mind to study hard & smart while you're studying in UTAR.
2.30 p.m.: Welcome and Mass call
I suggest that it's better not to attend this event. It was so boring and long-winded. Get your ass home instead after the Briefing of Deans & etc.
8.30 a.m.: Ice-breaking and Tele-match
Don't GO! Can you get what it means by "bring along an extra shirt"? The answer everyone MAY get wet (because of water splashing) and SUNBURN (my housemate experienced it). What I did on that day was to cycle out with my new bicycle and explored Kampar town.
12.30 p.m. & 1.30 p.m.: Integrity talk & Soft skill talk
I don't even know what these talk was that time but I DIDN'T ATTEND THEM.
2.30 p.m.: Campus adjustment talk
I also didn't attend this talk because I can really adjust myself to the new environment. I'm not like those who either feel homesick, lonely or depress. Though I'm the only Sabahan and first time staying alone away from my hometown (kononnya) that time with no friends, I can still live happily ever after.
Father: Do you want me to stay another night in Grand Kampar Hotel?
Me: No need. You can leave me here now also.
Father: Sure or not? You really can take care of yourself or not?
Me: Ya bah.
From that day, my father left me and made his way back to KL (Yeah baybeh! FREEDOM!). On the next day, father gave me a call.
Father: How are you? Where are you now?
Me: I'm fine and I'm at campus right now heading to lecture room.
Father: Oh. That's good. Now I'm going to Singapore with Uncle Thomas.
Me: 0.0?
Father: If you need help, I can go back to Kampar again.
Me: No thanks. I'm satisfied with my life here.
I get to know a lot of students from different states. But I felt odd that I was a Sabahan that caused a shock to everyone that I came so far away and landed Kampar. Anyways, at least I'm proud of myself residing peacefully at Kampar. Hahaha…
3.30 p.m.: PTPTN briefing
Optional event for all students.

1.00 p.m. & 3.00 p.m.: Career talk & Financial planning talk
I find it nonsense. I didn't attend it even.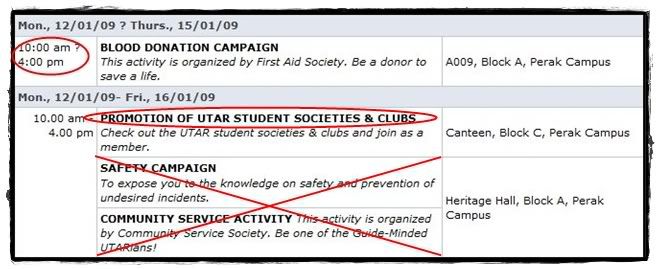 Blood donation campaign
If you think that you need a hollow on your head (to be an angel), you are most welcome enough to contribute your blood to save a life. Actually I wanted to donate my blood for the third time. However, my housemate mentioned the needle used to "sting" in your arm is as big as "Vitagen" straw. That freaked me out.
Promotion of UTAR student societies and clubs
All are welcome to join any club and societies.
Safety campaign & Community service activity
I didn't go for it. :-p
UTAR song competition
I have no idea.
City Tour
I forgotten places of interest in Perak they mentioned in the itinerary. Again I didn't go for it as I have travelled 4 places before in Perak out of 8 places with my father mentioned in the itinerary. The rest of it was TEMPLE. Since my religion was Christian, I do find that I not suitable enough to go for it. Hahaha…
UTAR ball
For what? I'm so lazy to attend it.