Kah Keong entered into the Lecture Hall, EDK 5. MyFC (Malaysia Fried Chicken) BLAZED! I was like…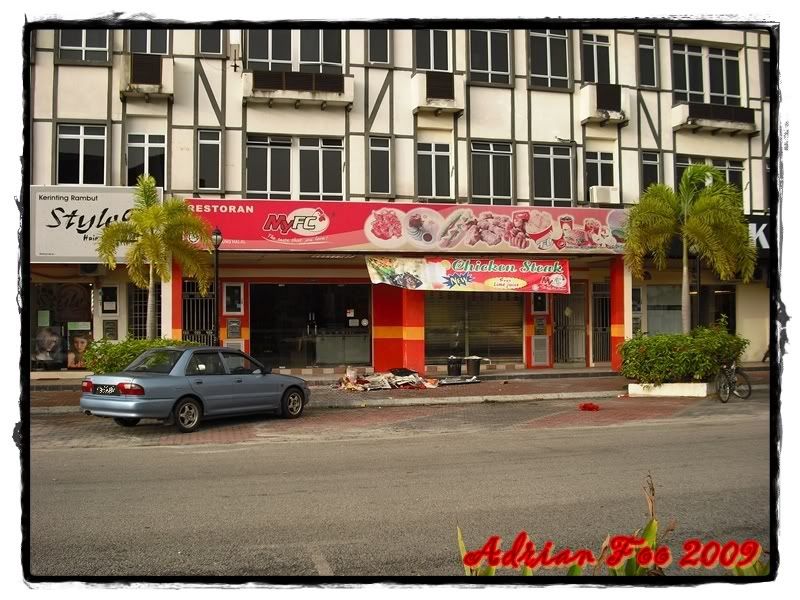 0.0? Huh?
For your information, the only fast food restaurant available in Kampar New Town was MyFC. The restaurant that copycatted (got such word?), Kitchen Fresh Chicken Kentucky Fried Chicken a.k.a. KFC. I have only been there thrice. Not as good as KFC. I preferred KFC instead.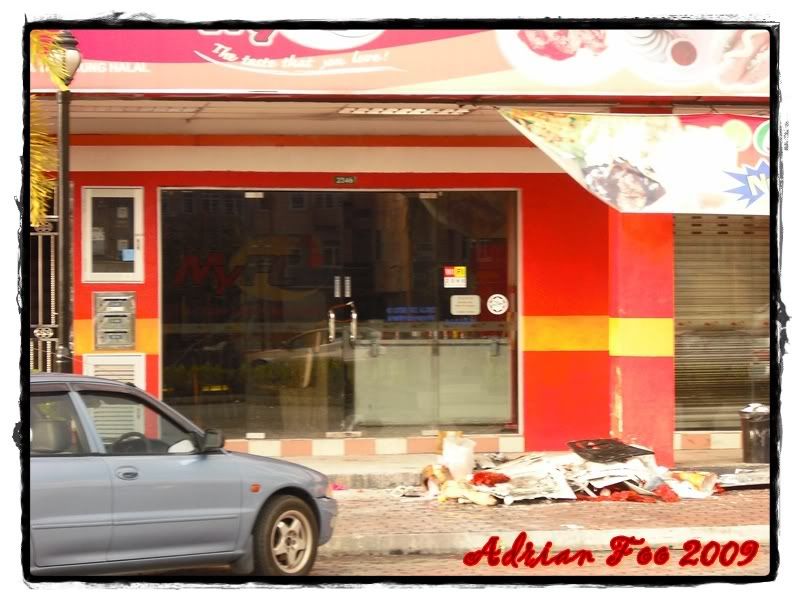 I don't know what's happening inside.
Glass broken.
I don't understand what was the motif behind it. Maybe I should get a copy of The Star tomorrow. But not sure I can get it or not because I got UCEC 1034 – Electonic Devices I lecture (replacement) tomorrow from 9.00 a.m. – 11.00 a.m. Such event made my Friday abnormal. Need to wake up early.
Another news that I was shocked that Sabah Chief Minister announced this:
Sabah Chief Minister Datuk Seri Musa Haji Aman says his government has switched from the Proton Perdana V6 Executive to new "black Volvo 2.5″ cars as the state's new official cars. Once again as with Perak (Camry) and Terengganu (Mercedes-Benz E200K), the reason given was the high maintenance cars for the Perdanas.
He says the arrangement for the purchase is through a company called Angkatan Hebat Sdn Bhd (a company which the state government holds 70% of through its Warisan Harta Sabah Sdn Bhd investment arm), which will then lease the cars to the state.
The Perdana V6 is still in use as official cars for some senior officers including permanent secretaries and heads of departments. The new imported Volvos are for the 12 Sabah Ministers only. A 2.5 liter Volvo sedan would most likely point to the Volvo S80, the 2.5T model in particular, which offers an effortless drive thanks to its torque 2.5 liter inline-5 turbocharged engine. The Volvo S80 2.5T has also been spotted being used by the PDRM as part of its police car fleet. But if it is not a sedan (New Sabah Times sources only revealed it was a "car", did not specify any body shape), an XC90 would make sense.
The only question right now is, how will the S80s be maintained well when according to the Volvo Cars Malaysia "Find A Dealer" page, there are no authorised dealers or service centers in Sabah? I hope Volvo Cars Malaysia will be able to provide training to Angkatan Hebat technicians or some other kind of arrangement, otherwise it might end up being "high maintenance" all over again. A quick check with Angkatan Hebat's company profile (page 14) shows it already maintains a fleet of 38 Volvos and 14 service centers around Sabah so hopefully it should be sufficiently equipped.
I didn't know Sabah government so rich enough to have a Volvo as the state's new official cars. The only problem that, Sabah doesn't have any Volvo showroom. What more can you say about service centres.