My most favourite day of every week was FRIDAY! Why? Because it was not only the eve day towards the weekends but also an exciting day for me. I can sleep as late as I wished to and I don't even need to get up early for school on the next day.
Somehow, due to the whole freaking Chinese New Year week (26 January 2009 – 30 January 2009), my course was having a whole week leave. Because of that, replacement of lectures, practicals and tutorials has to be done. This affected my Friday turned out to be an unexcited day for me. All these classes need to be replaced on Saturdays.
Like this morning, I had my UCCS 1023 – Data Structures & Algorithms lecture replacement at 9.00 a.m. – 11.00 a.m. I got to wake up as early as 7.00 a.m. to prepare myself. So shit right? Moreover next Saturday (14 February 2009) [Valentine's Day] from 9.00 a.m. – 12.00 p.m., UCCM 1123 – Mathematics II lecture will be held.
Worst come to worst, this coming Monday (9 February 2009) was a public holiday. And I totally have no idea why Perak state has to celebrate Thaipusam? A person like me came all over from Sabah got to respect such occasion though I never experience such public holidays before. Indeed, another replacement of lectures, practicals and tutorials has to be done probably on Satudays again. Phuck right?
Since I was so stress of such thing, lucky for me something that brightens my day. I visited Google. I typed Kampar. I click the first linked display searched by Google. It directed me to Wikipedia. I found out that…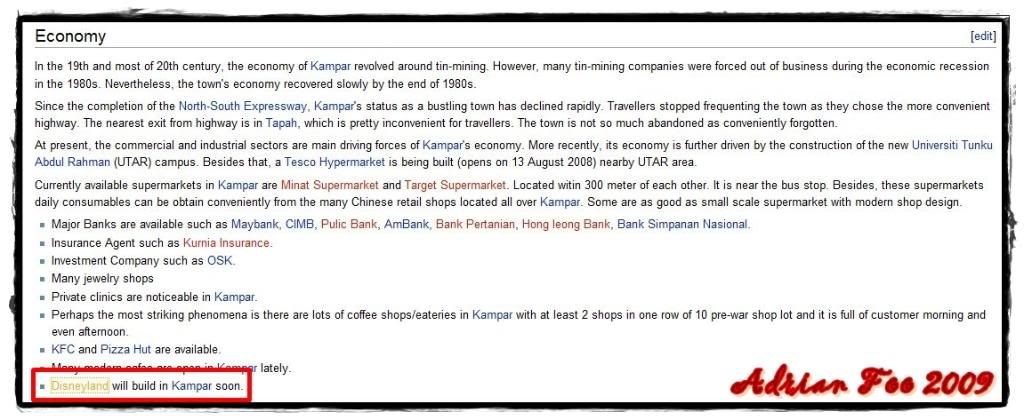 Oh my goodness! Was that true?
Eh hello? I wonder who was that culprit who provides such "great" info. I really wanted to laugh my ass off. So when is the ground breaking ceremony going to happen? I want a shopping centre to be built in Kampar, Perak. Not Disneyland or what so ever theme park. My weekends were so boring for me. I want to shop (window-shopping) till I drop. I don't need to enjoy till I become a toy.
Another thing that always made the whole people living in House No. 1323 was the…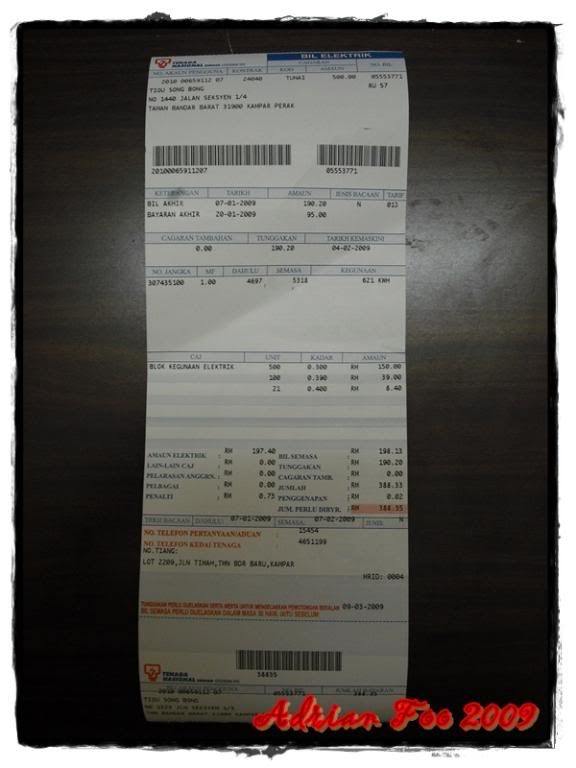 Electric bill.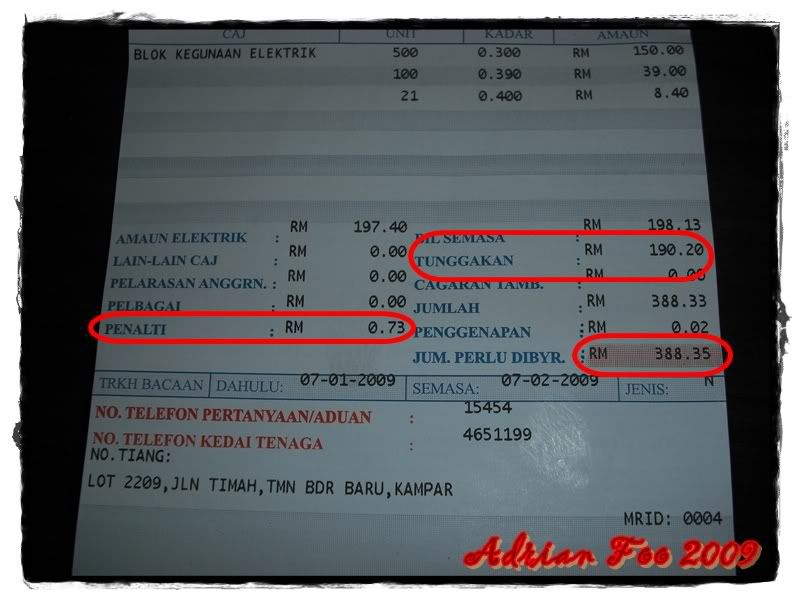 I don't understand why there was a penalty and "tunggakan". Where was Danish House responsibility?
We used around that much of units.
Forget about the "tunggakan"
Total electric usage for January 2009: RM 190.20
Danish house subsidized RM 10 for each person: RM 10.00
Since 11 person staying in 1323: RM 110.00
So extra electric used by us: RM 190.20 – RM 110.00 = RM 80.20
Each person has to fork out to pay the extra: RM 80.20 / 11 people = RM 8.00
At least better compared to last time whereby each of us forked out more than RM 12.00 per month for the access of electric usage.
The owner name of the house that I'm staying in Kampar. But rental and maintenance was being managed by Danish House.
I couldn't believe this spider was so big.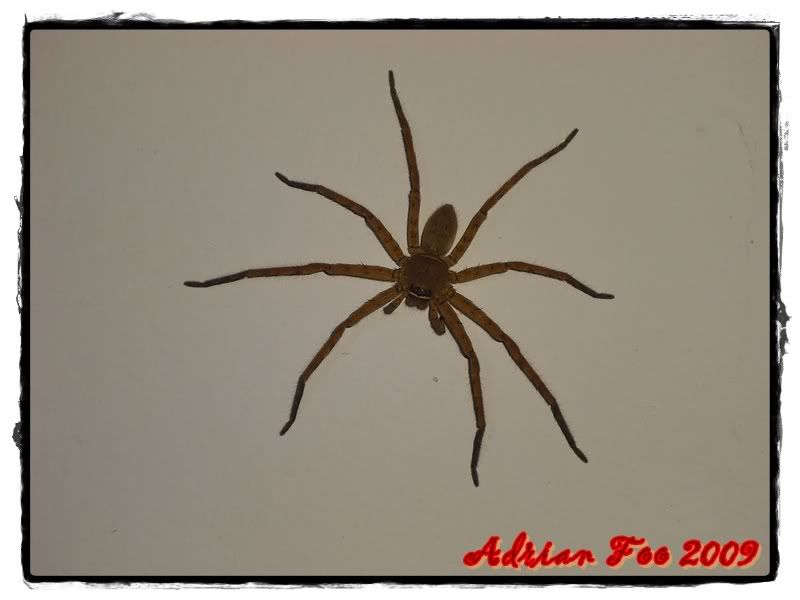 Lucky it was not inside my room.
I found it when we went to newly built Taman Oxford opposite our home. We want to view how nice was it. From there, the spider was found.