Didn't get to blog yesterday because I was busy revising MPW 2153 – Pendidikan Moral. Today was a kick start for my final examinations Year 1 Semester 2. Don't understand why exams held on Saturdays.
Well, Pendidikan Moral exam today was quite hard-but-not-so-hard. Just that my mind couldn't of anything to write for essay part. There were four invigilators while exam was in progressed.
Mr. M (My Moral Lecturer)
Oh my, from head to toe, I observed on what he's wearing. Whatever he wore were BRANDED. His watch, PUMA! His belt with big buckle, GUCCI! Damn, so far my branded belt was up to Levi's which my father bought it in end of year 2006. I'm aiming for Burberry Classic Check Belt.
Mr. B
Mr. B: MyKad please…
I was like "Sudah lah I flashed my UTAR Student ID on the table" and yet they still don't trust my image? It makes no differences whether I'm putting on my contact lenses.
You have wasted my time taking my wallet out, to get my identity card (I.C.) out from my wallet to show it to you. Indeed both faces of mine on UTAR Student ID and my MyKad were wearing spectacles.
Lady W
She kept on staring my I.C. on my table. I wonder why ah? Either I looked so different? Too handsome? Or the word "Sabah" attracting her attention?
I was so proud being a Sabahan residing over Kampar, Perak. Don't you?
I stared back to her and she shocked! Then she went off. XD…
Lady C
Lucky she didn't come over to my table to distract me.
~*~*~*~*~*~*~*~*~*~*~*~*~*~*~*~*~*~
In the evening, I had Pizza for dinner with housemates. I called 1300-88-2525, Pizza Hut's hotline at 6.20 p.m. My credit just wasted like that because of the silly girl's voice, ""Please press 1 for English, Please press two for bahasa…". My first time calling for Pizza delivery and also my first time having Pizza over Peninsular Malaysia.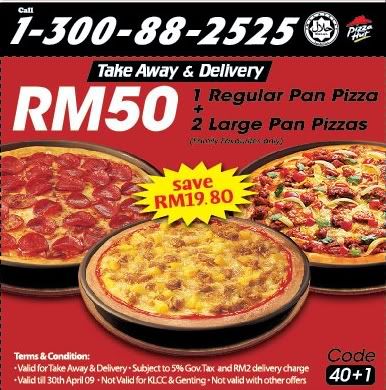 Finally, I placed my orders according to their promotion above. And this operator who answered my call, he heard wrongly. I told him my address was 1323, Westlake Homes, Kampar, Perak. However the delivery guy calling from Ipoh contacted me to ask for directions to my house. He don't even know where is Grand Kampar Hotel, Universiti Tunku Abdul Rahman, and some famous places I mentioned in Kampar, Perak.
I think that silly operator though I was staying in Jalan Kampar, Ipoh, Perak. So I called back 1300-88-2525 for my delivery status. He (different operator) told me that he received my order earlier and was directed to the wrong Pizza Hut's branch. Sweat…He told me the Pizza was on the way.
By 7.30 p.m., thank God our Pizzas have arrived safely at my home. And that summed us up…