1 year has come and gone away like that. So fast! I remembered the days when we first met. Since May 2008,
Mattew on my right.
1. You're the first person I've ever met in Kampar, Perak.
2. You're the first person I've met with an English name.
3. You're the first one I've met among any other housemates.
4. You name was so unique, MATTEW instead of MATHEW.
5. Your date of birth is EXACTLY the same as my younger brother, 26 June 1990 (I wonder what time you were born).
6. You and I living on the same floor but of different rooms.
7. You're my neighbour that just beside my room.
8. You've shared the same refrigerator, kitchen, dish detergent, sponge and etc. with me.
9. You always try to correct my Mandarin / Cantonese and in return I helped you to correct your English.
10. You asked for my opinion and recommendation on laptops that you wished to have some day.
11. You seek for my help in your assignments sometimes.
12. You joined (either cycled or walked) me and other usual housemates for every lunch and dinner outside (though recently you "launched airplane").
13. You requested me to "da bao" your favourite chicken rice from Loong Foong Kook whenever you're not joining me and other usual housemates for dinner (kononnya I'm not the one to da bao for him).
14. You teased me whenever I wanted to go Roti Shop because you said I fell in love with that Roti girl (What da?).
15. You helped me recently to buy The Star newspaper almost every morning for me.
Here I am, writing this post especially dedicated to you about the ups and downs, lefts and rights that we've gone through. It has been a year that we had fun together with other housemates as well in Kampar, Perak. I wish you all the best not only in your studies but also for your future. Have a great time in Setapak, Kuala Lumpur in June 2009 onwards!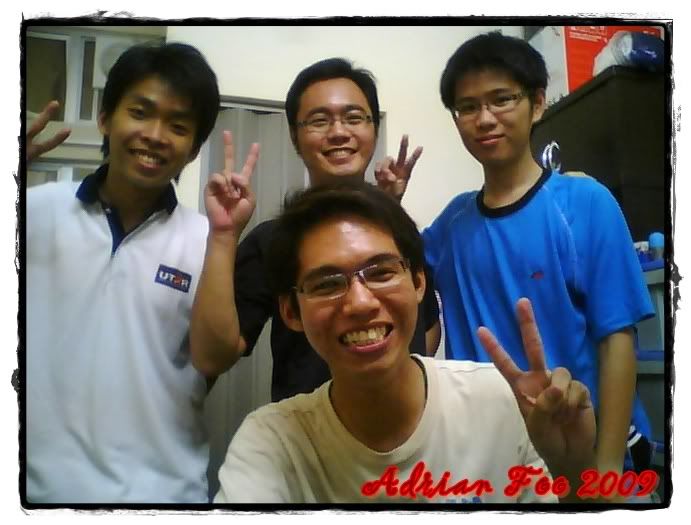 PEACE!
sob sob…