Date: 5 June 2009 (Today)
Time: 10.00 a.m.
Subject: UALE 1083 – Basic Professional Writing
Venue: EDK 3 (damn freezing cold place)
Lecturer: Ms. Geetha
My lecturer gave us some briefing regarding the course outline. Next, she told a piece of paper…
Name: (My name)
Grade: (MUET results)
Expectation: (What am I going to expect from this lecturer besides aiming for an A in this subject)
Special Interest: (My hobbies)
Email: (My email)
D.O.B: (The date I was born)
Something about myself: (Describe myself in my own opinion)
After that, she told us to take out a piece of palm-size paper and wrote our name on it. She collected it and shuffled it. It was then given out randomly to others to describe the person according the name stated on that paper. It's called ice-breaking.
This was what my other coursemates described me…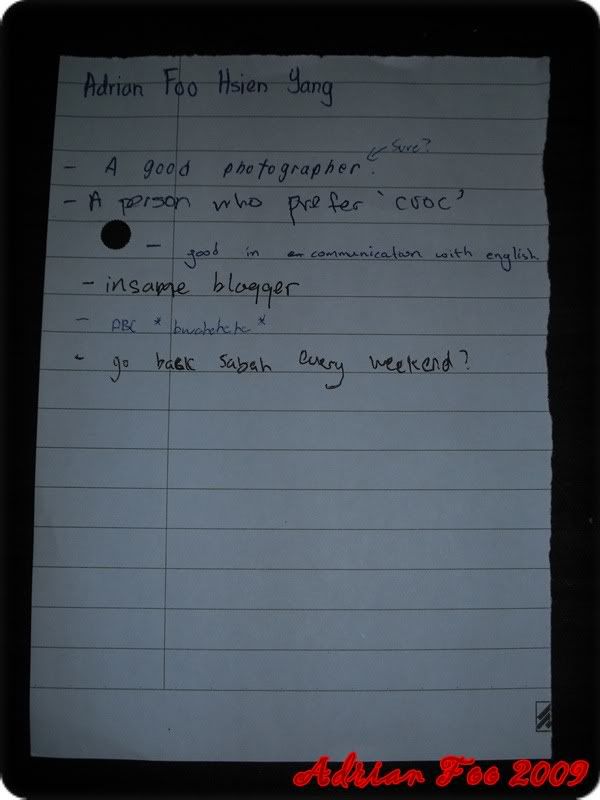 - A good photographer. Sure? (My FOOT!)
- A person who prefer "Crocs" (I was so well-observed by my coursemates).
- Good communication with English (someone trying to insult my Mandarin right?).
- Insane blogger (I have no idea who was that fanatic blog reader of mine).
- ABC *Bwahahaha* (I don't understand this).
- Go back Sabah every weekend (must be Wei Lam)?
I didn't expect Piglet even exist on someone's paper. *Mystery*