I've been through a tiring week. And still continues. I was busy studying preparing to fail all Mid-Term Test. Even no time to shit.
Last night, I went to bed as early as 10.30 p.m. because I need to get up early today for another mid-term test. But then…
Nokia 9300i: *Power Ranger SMS tone…*
Kah Keong: Ei, sleeping? Study finish boi?
Me: Yes sleepin. Sleepy. Why?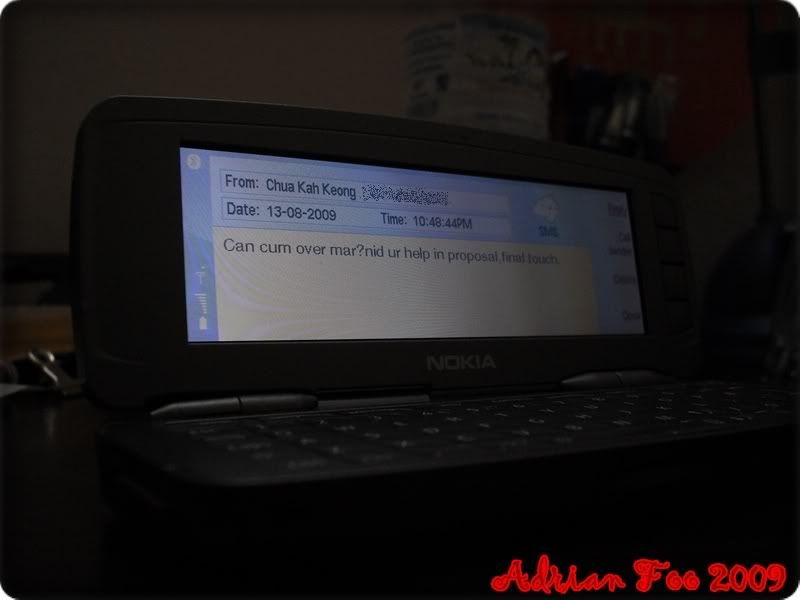 Kah Keong: Can come over mar? Need your help in proposal, final touch.
Me: I thought done liao?
Kah Keong: Ms. Christina ask us to change something. We out of idea.
Me: What the hell…okok I come.
So fish that I can't get to sleep early. I cycled to Kah Keong's house at 11.00 p.m. and all of my group members were there except Wei Lam. All I did was to give some ideas for our UALE 1083 – Basic Professional Writing assignment, informal proposal.
By 12 a.m. I returned home and sleep.
Today, I was so fished up again. Due to printing problem, mid-term test was cancelled. Everyone freaked out. Then when I think about it again, "Sir, my printer having problem, can I submit the assignment in next few days?"
Tomorrow (Saturday), another test. Ruined my weekends and today. Need to get up early for tomorrow's test.
It seems my course mates expecting me to buy a new mobile. They really have that "high-expectations" on me buying a high end and high tech phone. I wonder if I buy a Nokia 3310, what is their reactions towards me? "Zha Dao Gao Gao" there.
Kah Keong trying to "mod" the lab's keyboard.
P.S.: Someone's going to treat me something tonight.