Sunday morning, while I was having my Roti Canai for breakfast, a lady came standing at the entrance of 7-Eleven talked so loud to her phone. Sadly to say my Cantonese was so poor, all I can understand that she has problem with her family or finance like that.
This morning, I went to the same mamak shop for breakfast again. This time, the lady was having tosai there too. I just found a seat and ordered my meal. Few minutes later after I was settling down reading my morning paper,
She made a phone call.
The same thing went on. Talked to the phone so loud as if she wants the whole world knows her problem. Since she wanted to let the whole world know, I also want to let the whole world know how the hell she looked like.
I grabbed my Omnia pretending to make phone call. I then continue pretending to talk my phone (Actually I was pressing the shutter button of my phone's camera). Here was the result from my daring act…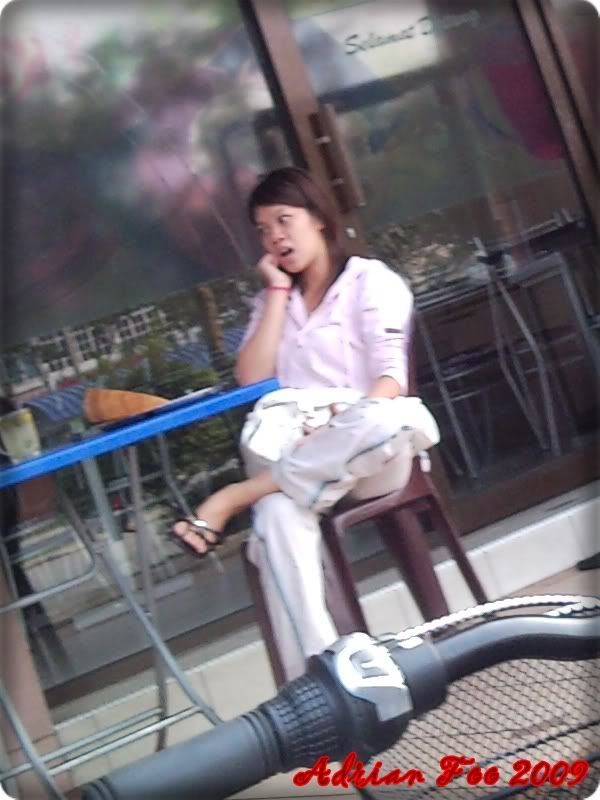 The way she sat (even talked) like 大嫂
Because my of my poor Cantonese, the only thing I heard from her conversation "…My father ran away when I was two. My mother left me when I was three…". She kept mentioning "…Rahman…".
I hope she's not hiring someone to slaughter UTAR's student but instead UTAR's students slaughter her to avoid her existence in Kampar.
How stupid am I that I forgot to record down her conversation with my mobile. T_T…
P.S.: Is my Chinese improving by writing the word "大嫂"?